Overview of Rice Production & Exports from India
As one of the largest rice exporters in the country Sija is engaged in the supplying, export, wholesale and distribution of rice that is of the finest grade and comes with impeccable nutrition value.

Sija operates as a certified Trading House, is today one amongst the largest exporters of finest qualities of Basmati Rice and Non Basmati Rice , holding significant market share worldwide. The company is based in 43/2 C.N.ROY ROAD,Kolkata-700039 , West Bengal, which is by far the biggest growing and trading centre of Basmati Rice in the world.

Right from the sprouting of grain in the paddy fields till the final step of distribution and marketing Sija uses its adept professional team and astute technical expertise to ensure perfect co-ordination between manpower and materials. This has helped us gain an in the extra competitive edge over the other exporters of Rice. We are effectively responding to the increasing demand from the mainstream customers and are now supplying rice to large distribution companies and grocery chains in UK and Europe, Canada, Australia, France, Italy and Middle East Countries.


Rice Estimates for India(CropYear: October 2014-September 2015)
(Unit: MillionTonnes)
Table-1: Rice Production, Trade and Availability

2013-14

2014-15
(Estimated)

Particular

January 2015

Source

19.03

26.78#

Opening Stock

11.74

DoF&PD

106.65

104.92

Production

103.04

D&ES

0

0.00

Total Imports

0.00

DoC

125.68

131.70

Availability

114.78

10.14

10.10

Total Export

4.29

DoC

18.34

24.50€

Ending Stock in Central Pool

13.54

DoF&PD

97.20

97.10

Total Available for domestic consumption

96.95
Source: Department of Food & Public Distribution (DoF & PD), Department of Commerce(DoC), Directorate of Economics & Statistics(D& ES), Department of Agriculture & Cooperation (DAC).
# : estimates in the beginning of the year. € : estimates at the end of the year.
Rice Estimates for World
(Unit: MillionTonnes)
Table-2: Production, Trade, Consumption and Stock of Rice

Particulars

2012-13

2013-14

2014-15(Estimated)

Production

472

476

475

Trade

38

41

41

Consumption

469

481

482

Carry Over Stock

110

103

102
Source: International Grains Council (IGC)
During 2012-13 and 2013-14, the world production has increased by 1% (from 472 Million Tonnes to 476 Million Tonnes) , trade by 8% (from 38 million MT to 41 million MT) and consumption by 3% (from 469 million MT to 481 million MT).
India's Rice Production and Area under Cultivation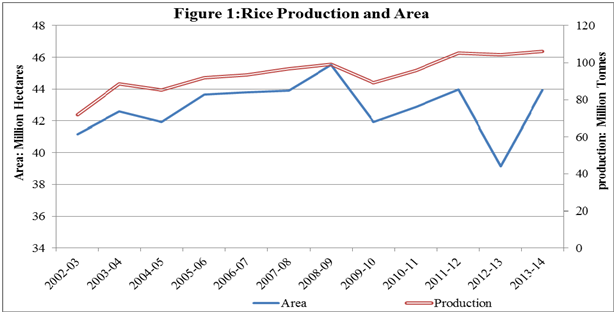 Source: Directorate of Economics & Statistics (D & ES)
India's rice production has increased at CAGR of 3.32 percent during 2002-03 and 2013-14.
Area under rice cultivation has not increased substantially during 2002-03 and 2013-14.

Major Exporting and Importing Countries of Rice in the world

India's Major Export Destinations for Basmati as well as Non-basmati Rice

Source: Department of Commerce

Source: Department of Commerce

India's Trade Flow for Rice during 2009-10 to 2014-15


(Unit: MillionTonnes)




Table3 : India's Trade Flow for Rice

Year

Export

Import

Basmati

Non-basmati

Basmati

Non-basmati

2009-10

2.02

0.14

0

0

2010-11

2.37

0.10

0

0

2011-12

3.18

4.0

0

0

2012-13

3.50

6.64

0

0

2013-14

3.76

7.0

0

0

2014-15 (Apr-Jan 15)

2.92

6.64

0

0

Source: Department of Commerce