Process
As a recognized trading House, Sija is today one among the largest exporters of finest qualities of Basmati Rice and Non Basmati Rice, holding a significant market share worldwide. The company is based in Kolkata , West Bengal which is by far the biggest growing and trading centre of Basmati Rice in the world.

As rice forms the basic primary processed product obtained from paddy it needs to be further processed for obtaining the final finished product- a superior quality of fine grain Basmati or non-Basmati rice.

Sija devotes itself to the scientific development at each and every stage of the manufacturing process – this reflects our firm commitment to quality and customer requirements.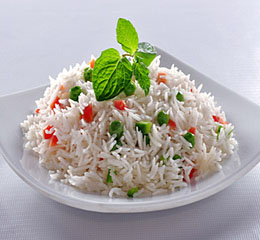 Some basic rice milling processes that are optimally handled at Sija :




When paddy is brought into the mill it can contain foreign material such as straw, weed, seeds, soil and other foreign material. If these are not removed prior to hulling the efficiency of the huller and milling recovery are greatly reduced.



The first separation is done by scalping or removing the objects that are larger than the grain.

The second separation retains the grains but allows broken grains, small stones and other foreign objects like weed seeds to pass through.



A simple pre-cleaner used in rice mills usually contain an oscillating double screen bed with an aspirator. The air aspirator sucks out dust and the light empty grains. Air dampers are provided and have to be adjusted to prevent the good grain from being sucked out.